14 Feb 2019
ARTIFICIAL INTELLIGENCE VERSUS ACTUAL INTELLIGENCE - WHEN DOES THE HUMAN CONNECTION MATTER?
By Manveer Mangat, Chief Technology Officer, Sesui Cloud Communications
If there's one thing we know about travel, it can be complicated and it's nearly always unpredictable. Al Gore hit the nail on the head: "Airplane travel is nature's way of making you look like your passport photo"; too true. And who hasn't checked into their hotel, only to open the suitcase and find Hawaiian shirts and a snorkel. Except... you're away on business... in Russia. Oops. Yep, lost luggage is the worst, but not 'The Absolute Worst', we reserve that label for ash clouds, travel bans and (dare we mention the B word?) Brexit (ssssh).
Even the most routine business travel can quickly become stressful, but we believe that's where people come into it. At some point in a customer's journeys, they'll nearly always need to make a human connection – enlisting the help of Actual Intelligence rather than Artificial Intelligence. And we're hosting a debate on this very topic.
If you're heading to the Travel Technology Expo on February 20th come and join our discussion on Artificial Intelligence versus Actual Intelligence at 12pm in the Tech Huddle Zone (on the balcony) - hosted by Tim Wright, Chair of the Travel Technology Initiative (TTI) and joined by Karen Janssen, CIO of Corporate Travel Management (CTM).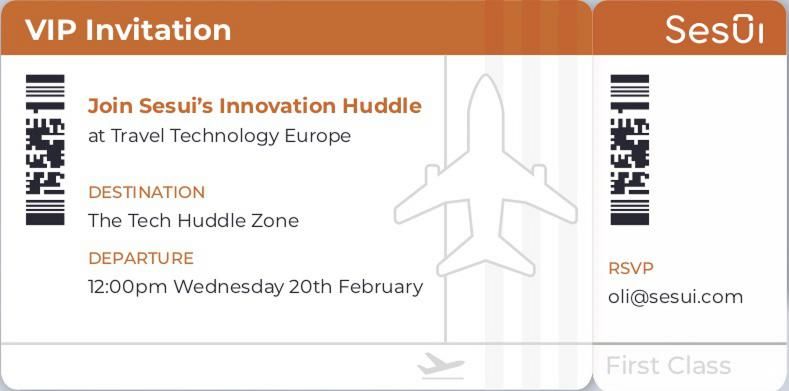 We're discussing whether AI really is the answer to performing any intellectual task a human can, as dynamically as humans do. Or whether competing trends for increased personalisation and more complex bleisure bookings, along with limitations in self-service, mean that human connections ultimately win out in the end.
It'd be great to get your views on the subject, so if you'd like to come along, please email oli@sesui.com
POWER TO THE PEOPLE
And while you're at TTE, head over to Stand T502 to find out how cloud communications lifts your customer conversations into the cloud. It means you can overcome departmental or geographical barriers by putting your customers in touch with the right team or individual to help with their specific challenge. It also helps your team to build more meaningful customer interactions and to react quickly when the unforeseen happens.
We're in the business of helping you deliver great customer experiences and we want to treat you to a great experience too; like motor racing or hot air ballooning! So visit our stand and go into the draw for Virgin Experience Day.
That's two compelling reasons to look us up at the Expo. See you there!