13 Apr 2023
Pax2pay awarded 'Most Disruptive Financial Services Technology' at the FS Tech Awards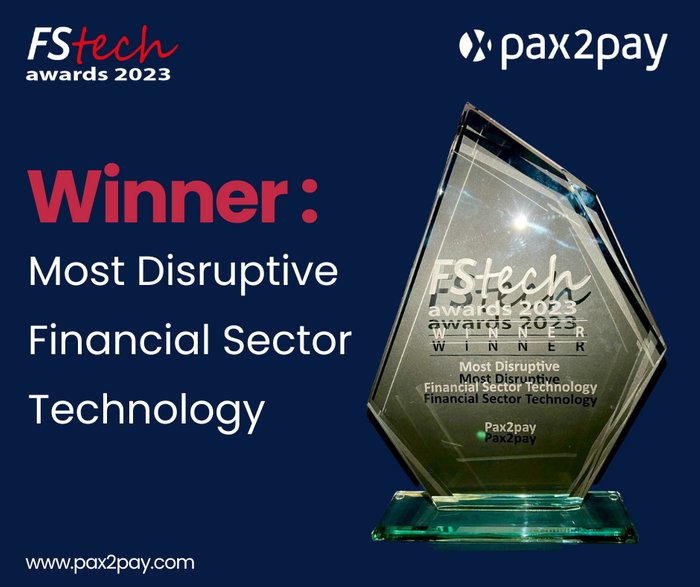 Recognised for our Payments Optimisation Engine which calculates the best payment method to use for each transaction by monitoring both real-time and historical data to minimise payment disruption – we're thrilled to have secured this recognition. 🤩
We're delighted to share that we were named the winner of 'Most Disruptive Financial Sector Technology' at this year's FStechAwards 🥂
Recognised for our Payments Optimisation Engine which calculates the best payment method to use for each transaction by monitoring both real-time and historical data to minimise payment disruption – we're thrilled to have secured this recognition. 🤩
As a business, everything we do is for the benefit of our customers – our Optimisation Engine embodies this entirely. By being able to suggest the best card to use for each payment type to our users, we can save them huge amounts of time and resource, that would otherwise be spent reconciling payments, or rectifying issues.
Instead, this time can now be diverted into business progressing activities. This is crucial in an industry such as the travel industry where a missed payment can mean a missed booking, disruption to travel, a very unhappy end customer – and ultimately lost revenue for the business.
Ultimately, our Optimisation Engine allows businesses to maximise their bottom line without disrupting their operations or sacrificing supplier relationships.
Pax2pay CEO, Paivo Eerola had this to say:
'We're incredibly proud of the world-class technology we have built at Pax2pay. Every day we help travel businesses increase their revenue, enhance the security around their payments, and optimise their reporting. These benefits are core to any business's success, but even more so for the travel industry which operates on such tight margins.
To be recognised in this category by an independent, respected third party – especially when we were up against some tough competition – is a testament to the technology we are building at Pax2pay. We're doing things differently. And we're doing them in a way that delivers real benefit to our customers.'
When asked about their experience of our Optimisation Engine, one of our customers had this to say:
'With Pax2pay our payments have turned from a cost centre to a revenue stream. The travel industry notoriously operates on tight margins, so the ability to optimise our payments is game-changing for us.' – CFO, Global OTA
Want to take the pain out of your payments? Take advantage of our award-winning technology today.