21 Feb 2019
NAVA WINS TRAVEL TECHNOLOGY EUROPE DISRUPT AWARD 2019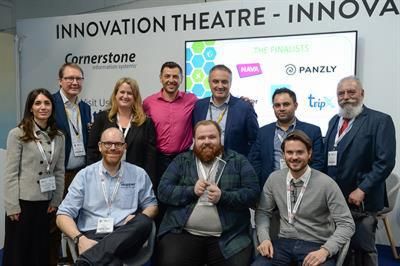 NAVA, the innovative new recommendation service that matches people to venues around them using behavioural and geo-spatial data, has been named the winner of the 2019 Travel Technology Europe Disrupt Award.
Following an impassioned 'Dragons Den' style pitch to five judges in front of a crowd of industry onlookers, Tom Charman, Nava CEO, described their vision for revolutionising the way in which companies interact with customers.

Creating immersive city experiences across Europe, Nava aims to help locals and travellers alike unlock their destination, while helping travel companies understand exactly when and where visitors go.
Upon winning the award, Tom Charman said: "I'm really happy to win. I have come to this conference for the last three years and it's always seemed like a great show to be a part of, however as a start up, it's difficult to commit to a stand – something I won't have to worry about now for next year. I really enjoyed the whole process, even the pitching – I'm used to speaking to panels of investors so it was nice to have a friendly audience!"
Describing the reasons behind the win, Judge Lee Hayhurst, head of news, Travel Weekly Group, said: "It was a tough decision as they were all great in their own way, however the awards are called 'Disrupt' so we were looking for something with potential to be the most disruptive, with a clear vision. We felt Tom presented extremely well and that Nava's solution had the widest scope."
He continued: "We are always looking for something that opens our eyes and demonstrates a completely new way of doing things. We wanted to be inspired by new ideas and Nava's unique concept certainly ticked that box."
Winning the coveted Disrupt Award has entitled the startup to a full-size stand at the 2020 event worth £8,000, plus valuable marketing support. NAVA successfully applied for the event's highly competitive Disrupt Launchpad, which showcased 10 of the most innovative start-ups in the travel technology industry this year.
Fellow finalists were Grapevine, Hopper Video, Panzly and TripX, chosen via an online public vote lasting three weeks. They presented in front of a panel of expert judges covering a range of industry sectors:
Lee Hayhurst, Head of News, Travel Weekly Group

Walter Toscano, Senior Advisor, Travel & Telecom Ltd

Renee Tsielepi, Agile Trainer & Coach, Transcendence

Rob Colledge, Marketing & Communications Manager for Online Travel, Amadeus

Alice Ferrari, Strategic Partnerships Lead - Travel, Founders Factory