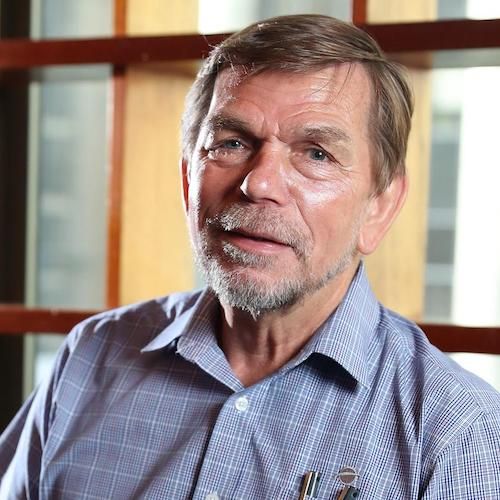 Graham Turner
CEO
,
Flight Centre Limited
Graham 'Skroo' Turner was raised near Stanthorpe, and trained as a veterinary surgeon. In 1973, he and two mates bought a couple of double-decker buses in England and began a holiday travel company, Top Deck Travel. With only a bus load of energy, entrepreneurship and youthful exuberance, they organised bus tours to the continent and parts of North Africa. By 1980 the business had a fleet of seventy to eighty buses. Old Top Deckers still look back on those times with enormous pleasure, celebrated in the book Top Deck Daze.
In 1981, Skroo returned to Australia and established the Flight Centre travel business. It was an opportune moment as the airline ticketing industry had recently been deregulated, allowing the sale of discounted tickets for the first time. Under Skroo's dynamic leadership Flight Centre took off, providing the cheapest possible pricing, deriving profits from the volume of sales.
Skroo floated the company in 1995, as much to allow employees to become part owners of the business as to raise capital. Fifty percent of the staff bought shares.
Graham Turner – In recognition of creating Australia's leading domestic and international travel sales business through outstanding entrepreneurship and innovation.
Graham Turner is not your usual corporate leader. He remains down to earth without the need to surround himself with the trappings of his success. The financial bottom line at Flight Centre is important, but it has been achieved because Skroo also believes in empowering employees, rewarding initiative and fostering the spirit of a large tribe throughout the company. There are no extra perks for senior executives at Flight Centre unless everyone gets them.
Flight Centre has prospered, despite the Global Financial Crisis: in August 2010 its market capitalisation was $1.9 billion. The company is now truly international, operating approximately two thousand agencies and businesses in eleven countries, with 8000 staff. While Flight Centre is the flagship brand, the company has expanded into specialised markets under a range of brand names.
Shareholders will be more than pleased that Graham Turner hopes to continue at the helm of the business for years to come. His nickname, Skroo, acquired as a school boy, derives from the then famous Turner brand of screw drivers. In making an outstanding contribution to business in Queensland and Australia, Skroo has demonstrated great vision, high energy and entrepreneurial spirit.