Korean Air's customer-centric app mission.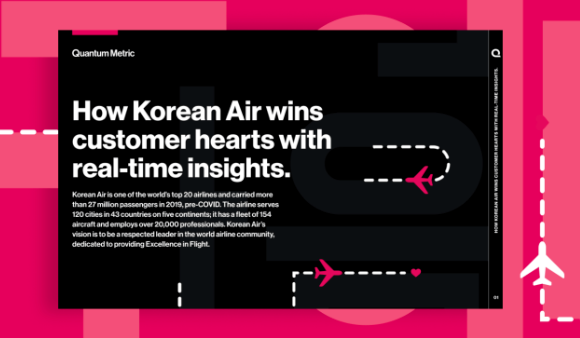 A global leader in customer satisfaction. How Korean Air wins customer hearts with real-time insights. Continuously providing seamless travel experiences, Korean Air prides itself on customer-centricity. One of the world's top 20 airlines by passenger volume, Korean Air's vision is to be a respected leader in the world airline community, dedicated to providing excellence in flight. It has ranked first place among airlines in the Global Customer Satisfaction Index for 17 consecutive years.
Setting out to win customers' hearts in digital. Being the world's most respected airline for customer satisfaction didn't happen overnight. They've had to continuously improve to maintain the highest standards year after year to earn trust and loyalty from their customers. The airline needed a modernisation programme, so they started making small changes towards greater customer-centricity, including the introduction of its new app in January 2021.
Access the case study using the link: https://www.quantummetric.com/thank-you/how-korean-air-wins-customer-hearts-with-real-time-insights/