Online Distribution in the Multi-day Tourism Industry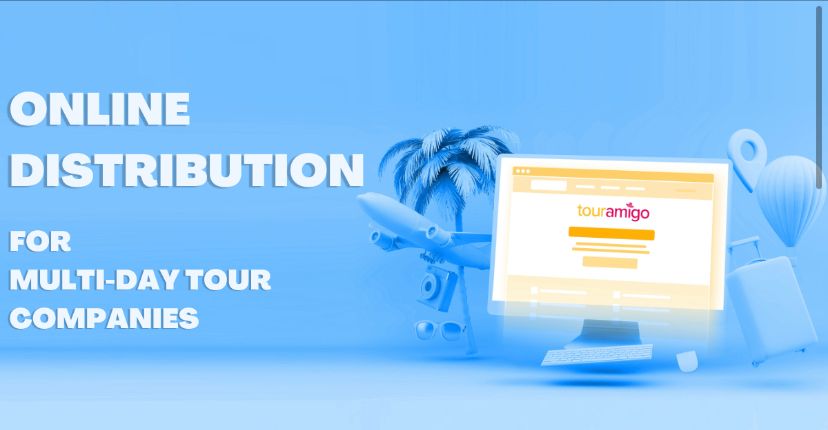 The travel and tourism industry has long relied on online distribution as a key pillar in marketing and sales strategies. However, with limited technology and live connectivity, the multi-day tourism sector is still in its infancy in terms of online distribution.
The travel and tourism industry has long relied on online distribution as a key pillar in marketing and sales strategies. However, with limited technology and live connectivity, the multi-day tourism sector is still in its infancy in terms of online distribution.
Whilst operators with fixed departures and set packages generally have some level of online book-ability through their websites and perhaps OTAs, it is extremely difficult to manage the complexities of different room types, optional activities and booking supplements through these online channels.
This means operators either do not offer them, missing out on upsell opportunities, or they rely on very manual, offline enquiry processes.
With most operators feeling the strain of limited resources (both human and financial) it's time to revisit online distribution to drive sales, without the burden of manually loading, allocating and updating inventory across multiple channels.
We answer some common distribution questions below.
What options are there for online distribution?
Sell on your own website - With your booking system integrated to your website you can take bookings directly, without a manual reservation process.
OTAs - OTAs are continuing to drive significant growth with total online sales in the US market rising 86% in 2021, outperforming the total travel market.
Cruise Lines - As they say, a multi-day tour is a 'cruise on wheels' so why not work with cruise companies who target similar clients to cross-sell these experiences?
Airlines - Partnering with airlines or travel agents specialising in air is another great way to reach new customers, who may not be aware of the tours on offer in their chosen destination.
Hotel / Accommodation Chains - Another untapped market worth exploring. Many tour operators have relationships with accommodation providers (both large chains and boutique properties). These companies promote day tours and activities when the client arrives, so why not promote multi-day tours that use these properties, at the time of booking?

• Bloggers / influencers - Travel bloggers and influencers have some of the most engaged audiences providing a great platform to market your tours. Whilst some companies have started utilising this channel, it's primarily run through an affiliate model which has a high risk of leakage and lost sales. Setting up direct online distribution with bloggers and influencers enables clients to book instantly, and gives increased visibility to both the operator and selling partner to measure results effectively.

And the benefits?

• Cost of customer acquisition - Running an effective marketing campaign is very expensive. With the cost of customer acquisition extremely high, operators reap huge benefits by working with established online selling partners who specialise in this area. Whilst 10-15% commission may seem high, when you consider the marketing spend required to get bookings, this is a small price to pay.

Increased exposure = increased brand recognition - Also known as, 'the billboard effect. With more eyeballs on your products, your brand becomes top of mind for those interested in your products.
Diversification - A term we are all familiar with. Putting all of your eggs in one basket is risky, especially when the industry is under immense pressure. Having multiple selling channels is vital in ensuring your business can respond quickly to industry changes.

Many OTAs and other online selling partners are focused on day tours and attractions. It's crucial to ensure that the partners you work

How to select the right partner?

• Ensure their booking journey and marketing is optimised for multi-day tours with see multi-day tours as a key driver for business, not simply an ancillary product.

Without an optimised multi-day booking journey, the customer experience suffers and you're unlikely to have high conversions.

• Understand their audience and target market

Whilst mass marketing works for some market segments, operators should ensure their offering aligns with their chosen selling partners target audience to avoid dedicating resources to the wrong area. It's also vital that selling agents are selective about the products they offer.

• Ensure they understand your product

Just because you're selling online doesn't mean you shouldn't work with your selling partner to ensure their team understands your product, how to market it and the options for upselling. You would work with travel agents to train them on your product...online selling partners should be no different.
I'm interested…but where do I start?
The most effective way to work with online distribution partners is via a 2-way API connection. This means the selling partner has access to an instantly bookable connection with your product information, availability and pricing. When you receive a booking, the passenger details would load directly into your booking system with no manual reservation process necessary.
Tour Amigo's 2-way API works seamlessly connects both tour operators and distribution partners, providing instant book-ability between both parties.
Wanting to increase your distribution, or become a distribution partner? Book a demo with us today - https://touramigo.com/contact