04 Jul 2023
TravelTech Show 2023: A spectacular event driving innovation and collaboration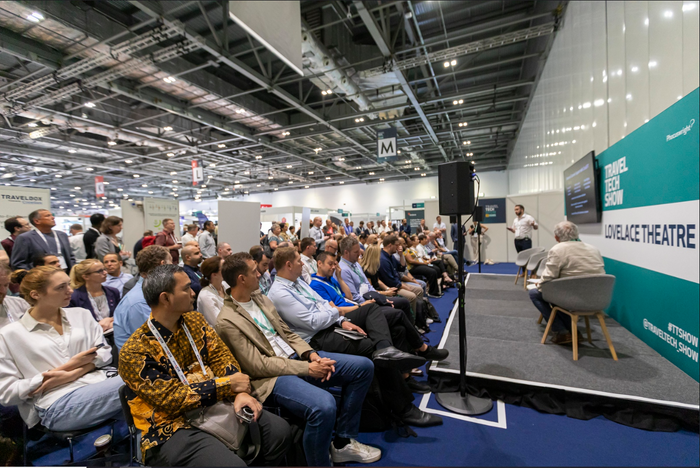 The TravelTech Show 2023, held at ExCeL London, exceeded all expectations with a staggering 53% growth in attendance. The event showcased the latest advancements and insights in the travel technology industry. With insightful keynotes, engaging panel discussions, and exciting exhibitors, attendees were treated to an unforgettable experience. Let's delve into the highlights and key takeaways from this year's TravelTech Show.
The event commenced with an enlightening keynote by Daniel Williams, CTO-Aviation UK, Microsoft, who shed light on the collaborative efforts between Microsoft and Open AI and their implications for the travel industry. AI-powered customer experience was also a hot topic, with Kane Simms, Founder of VUX World, providing a glimpse into the future. The annual C-suite Question Time panel brought together top executives to discuss the challenges and opportunities they face in their organizations.

Over 70 industry experts took to the stages over the course of the event, engaging in spirited debates on various topics from AI versus automation to the challenges of inflation, costs, and payments. Attendees gained valuable insights into winning new customers and received a glimpse into the future of the travel industry.
TravelTech Show 2023 saw the introduction of several international pavilions showcasing technology from across Europe. The Israel Pavilion featured innovative solutions such as Manage Your Trip, Sports Events 365, and Tourbo. The Catalonia Pavilion, presented by the Catalonia Tech Tourism Cluster, showcased the likes of James & Rita, Peek'in, Prestige Software, Tiqueteo Spain, and Voxel Media, offering attendees a global perspective on cutting-edge technology.

The highly anticipated Tech Tours also made a triumphant return this year, offering buyers an exclusive opportunity to explore the show floor and learn about the latest technologies. Select exhibitors delivered elevator pitches, showcasing their services and leaving a lasting impression on attendees. The Trailblazer Awards, an event highlight, saw Jyrney emerge as the winner among fierce competition from Hands in, Moder, MagellanGO, and Triend.
CEO and co-founder of Jyrney, Daniel Price, said, "Winning the TravelTech Show Trailblazer Awards is really important for us because as a startup we don't have a massive marketing budget, so these kinds of things really matter to us; it gives us exposure across the market, and it helps the industry understand who we are, what we do as a business and how we can solve their problems".

Networking opportunities were abundant throughout the event. Attendees enjoyed connecting with exhibitors at their stands, discovering new business prospects, and participating in engaging competitions. However, the pinnacle of networking was the TravelTech Show 20th birthday party, where buyers and suppliers came together to celebrate two decades of industry excellence. Attendees indulged in TTS cupcakes and shared memories while raising a glass to future collaborations.
Nick Mariolis, Information Technology Consultant, Avratours SA said, "I always attend every year because it's a great place to not just know what's happening in the industry but also meet all your fellow colleagues. It's like a kid in a garden, the range of products is amazing and there are a lot of interesting sessions. I look forward to it every year and always have the dates marked in my calendar."

Nimet Sayeed, Event Manager of TravelTech Show, expressed her excitement about the incredible success of this year's event, saying, "TravelTech Show 2023 exceeded all expectations, bringing together industry leaders, innovative technologies, and engaging discussions. It was inspiring to witness the collaborative spirit and thirst for knowledge among attendees. We are proud to have created a platform that drives innovation and fosters meaningful connections in the travel technology industry. We look forward to continuing to empower professionals in shaping the future of travel."

TravelTech Show 2023 left a lasting impression on attendees, providing a platform for knowledge sharing, networking, and collaboration. With its remarkable growth in attendance, thought-provoking sessions, and international pavilions, the event proved to be a catalyst for innovation in the travel technology sector. As the industry continues to evolve, TravelTech Show remains a must-attend event for industry professionals looking to stay ahead of the curve and shape the future of travel technology.
TravelTech Show will return to ExCeL London on 19-20 June 2024 for more collaboration and connecting the industry together. Register your interest.